Deluxe Tour Inclusions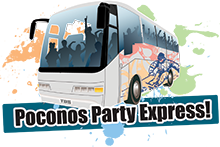 ROUND TRIP TRANSPORTATION*
Via Deluxe, non-smoking, video equipped motorcoach.
You choose the departure location!
Each group travels on their own exclusive bus.
2 NIGHTS ACCOMMODATIONS
Rooms feature hair dryer, iron, cable TV & wireless internet.
Free Upgrades to Suites for group leaders at select hotels.
4 "ALL YOU CAN EAT" MEALS & MORE
Friday night Welcome Buffet featuring hot & cold foods.
"All You Can Eat" buffet breakfast on Saturday and Sunday.
"All You Can Eat" buffet dinner on Saturday and Sunday.
"OPEN BAR" WEEKENDS
"FREE OPEN BAR WEEKENDS" with Premium Brand Liquors.
OPEN BAR SELECTIONS**
PREMIUM LIQUORS: Hennessy, Absolut, Seagram's, Jim Beam, Bacardi & Much More!
DRAFT BEER: Budweiser and Coors Light.
WINE SELECTION: Chardonnay, White Zinfandel and Merlot.

Soda, Juices and Mixers also provided.
DANCING, PARTIES, & NON-STOP FUN!
"TDS Welcome Party" with complimentary refreshments and FREE OPEN BAR.
Friday Night "Jammin' Jammie" Party with FREE OPEN BAR.
Saturday Night "80's Party" with FREE OPEN BAR.
"Happy Hour" Parties on Saturday and Sunday afternoon with hot and cold appetizers and FREE OPEN BAR.
Karaoke Party one afternoon.
ACTIVITY SERVICES
Tour desk for activity sign up and assistance.
FREE beginner ski lesson on Saturday with the purchase of a lift ticket*** at selected ski areas.

FREE transportation to all scheduled activities*** such as Outlet Shopping, Casino Gambling, Snowtubing and more!.
ALSO INCLUDED
Pre-Registration at the hotel and Late Checkout on Sunday.
Tours de Sport's professional staff at the hotel and ski areas during the weekend.
All Fees and Gratuities.
Tour inclusions may differ slightly at each tour hotel. Children under 16 are not encouraged to be in attendance at the DJ Dance Parties after 11PM. Some hotels will not allow persons under 21 to open bar functions.
* Due to the pandemic, there can only be one group allowed per bus. This means that each group would have exclusive use of their own bus. This would mean that if you have 35 or more people, the bus would be all yours! The same would be true for groups of less than 35 people, but there would be an "empty seat" bus surcharge for any empty seat up to the 35th seat. Bus seat surcharge to be determined at a later date.
** Brands may vary slightly at each hotel.
*** Additional Cost